If you have been following me on the last few blogs, you have come to see that the aim of the Durihana International School and the aim of North Korean schools is the same: to make the children worshippers. The great difference comes in whom we are teaching the children to worship. The purpose of the North Korean education system is to make children worshippers of a man. The purpose of the Durihana International School is to make the children worshippers of the one true God. The one brings bondage and darkness; the other brings freedom and light. The one hardens the heart; the other softens the heart.
The differences are legion-seen most clearly in the object of their devotion. But today, I'm going to show you another unique aspect of North Korean education that those in the western world will not be familiar with.
The Bible teaches us to love what God loves and to hate what He hates. As the Psalmist declared: "You who love the Lord, hate evil!" (Ps. 97:10). Solomon wrote that, "The fear of the Lord is to hate evil…" (Pr. 8:13). Later on the prophet Amos pleaded with God's people, saying, "Hate evil, love good; establish justice in the gate…" (Amos 5:15). The Christian is therefore to love their enemies (Matt. 5:44), but to hate evil, sin, and wickedness. When we love God, God teaches us and works in us to love our enemies. And so we are taught to do…
In North Korea children have never seen, nor heard this kind of teaching. While recently spending some time with a few North Korean refugees, they shared how rare any expression of love was in their society. As children, their parents did not tell them they loved them. Spouses do not tell each other they love each other. It is completely foreign to them. They are not taught to love.
But they are taught to hate. It is saturated into every aspect of their society-and it starts young. The pictures attached to this article come out of a third grade math textbook from a North Korean school. The students are being taught math, but notice how these little children are being taught the simplest arithmetic. Notice the first picture (we have translated it for you): It is a simple math problem, but notice the variables that are used.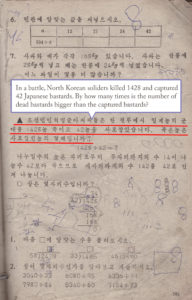 "In a battle, North Korean soldiers killed 1428 and captured 42 Japanese bastards. By how many times is the number of dead bastards bigger than the captured bastards?"
That's what third graders are learning in North Korea.
Another sample from the same textbook shows how hatred is taught not just towards the Japanese, but towards Americans as well. The text reads,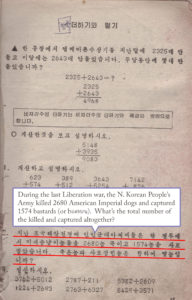 "During the last Liberation war, the North Korean People's Army killed 2680 American Imperial dogs and captured 1574 bastards (could also be translated b-#@!%). What's the total number of killed and captured altogether?"
As you read this, what do you think they are really trying to teach? Is it really math? What is being taught is the superiority of North Korea, and hatred for others.
The people of North Korea need Jesus Christ. In Ephesians chapter two, Paul taught that, "He Himself is our peace, who has made both one, and has broken down the middle wall of separation, having abolished in His flesh the enmity, that is, the law of commandments contained in ordinances, so as to create in Himself one new man from the two, thus making peace…" (Eph. 2:14-15).
Jews and Gentiles were both hostile to God and hostile to each other. "We ourselves were also once foolish, disobedient, deceived, serving various lusts and pleasures, living in malice and envy, hateful and hating one another" (Titus 3:3). The fact that the North Korean government propagates and trains its children in an ideology of hatred serves to show how lost they are. Their only help and hope lies in the gospel. Only Christ can destroy the hostility. Only Christ can bring peace. Only Christ can end hatred.
Knowing now how they are taught from childhood, is it any wonder they struggle so much when they arrive in South Korea or America? Is it any wonder their hearts are so hard? Should we be surprised that such patience and long-suffering is needed with them?
May God give us His patience and love as we seek to reach more North Korean's with the gospel of Christ.
If you are benefiting from these weekly blog postings, please pass them on to others who may be interested, or may have a heart for the North Korean people.